Shareholders' corner​
Welcome to the shareholders' corner! Are you or would you like to be a shareholder of ESI Group?
Find in this section all the information needed for your investment.​
How to become an ESI shareholder?
To become an ESI shareholder, you can choose between:
Bearer shares : your shares are managed by your bank or financial intermediary
Administered registered shares: your shares are managed by the market maker CIC Securities (6 avenue de Provence, 75009 Paris – +33 1 40 16 26 75) and stocked in an account.
To be aware of the advantages of each way of holding shares, refer to the table below: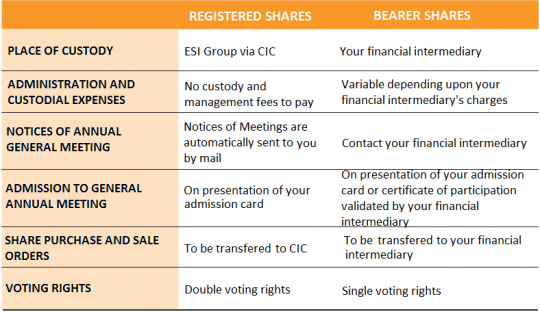 Why invest in ESI?
ESI Group's solutions address three major industrial issues:
Accelerate industrial innovation with Virtual Prototyping
ESI Group aims to give customers across all industrial sectors the ability to virtually design, manufacture and assemble, part by part, complete and physically realistic virtual products: product that can be tested under normal and exceptional operating conditions and be monitored throughout its lifecycle to optimize its use and maintenance. The Group's customers can thus enjoy a physically correct view of issues related to manufacturing, assembly, coupling and usage between products and their performance – long before physical prototypes can be created and tested.
Virtual Prototyping delivers key information for design iterations that also help prepare physical testing in the best possible way, right up to the pre-certification stage, and in some cases eliminating the need for physical tests until final validation
Facilitate product development with the end-to-end Virtual Prototyping method
Real or virtual prototyping is essential to traditional product development processes. Industrial companies build and test physical prototypes to evaluate the product's design effectiveness and examine potential improvements on a trial-and-error basis.
ESI's Virtual Prototyping solutions are placing Virtual Manufacturing and Virtual Reality at the core of a comprehensive design methodology that follows rigorous guidelines for building reliable models. Virtual Prototyping prevents risks and manages complexity, calibration and decision-making in an interactive way. This unique methodology supports industrial competitiveness by reducing costs and time to market. It benefits each stage of product development processes, enabling virtual pre-certification before the final physical test.
Innovations thus become dramatically easier to evaluate and implement.
Monitor the lifespan of the product when in operation
Coupled with latest-generation technologies, ESI Group's end-to-end solution, which currently offers a comprehensive development and manufacturing process for industrial products, is revolutionizing the traditional Product Lifecycle Management market. Indeed, Virtual Prototyping is part of an overarching approach known as Product Performance Lifecycle™, which addresses products' operating performance throughout their complete lifecycle, from launch to withdrawal.