OUR PURPOSE
At ESI Group, our purpose is to boost human creativity to drive industrial performance to ever higher levels.
Our purpose is a bold affirmation of our historical, ethical and practical terms, as well as an expression of our journey as a leading innovator in Virtual Prototyping software and services. This purpose is also our guiding star, stimulating change and progress toward what we are seeking to achieve with our entire ecosystem, while keeping human well-being and human creativity in the heart of our business.
CORPORATE SOCIAL RESPONSIBILITY
Aware of our responsibility in each of the pillars of sustainable development, we have gradually devised a CSR policy that contributes to shared economic and social development and the preservation of human equilibrium
Divided into 4 pillars and cascaded in 13 commitments, ESI's CSR strategy aims at providing sustainable solutions for CUSTOMERS, while being committed to its EMPLOYEES, acting ethically and responsibly with CIVIL SOCIETY and limiting its environmental footprint and the one of its customers on the PLANET.
Global Compact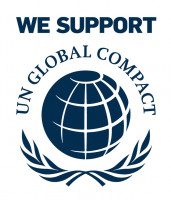 Since 2018, ESI Group signed the Global Compact (United Nations Global Compact) and thus undertakes to align its CSR strategy on the 10 United Nations principles, relating to human rights, international labor standards, the environment and the fight against corruption. The Group also undertakes to yearly communicate its progress to its stakeholders through the release of a Communication on Progress (COP).
Sustainable Development Goals
In 2015, the United Nations defined a list of 17 sustainable development goals ("SDGs"), meeting global challenges such as poverty, inequality, education and environmental degradation. Throughout its value chain and its CSR strategy, ESI Group addresses 10 different SDGs.

ESI GROUP'S MATERIALITY MATRIX
In 2020, ESI Group has updated its materiality matrix: a key tool in the execution of the company's CSR strategy, making it possible to define its priorities according to their importance for the Group's stakeholders, as well as their impact on ESI's performance. For more information, please refer to the 2020 Universal Registration Document, available here.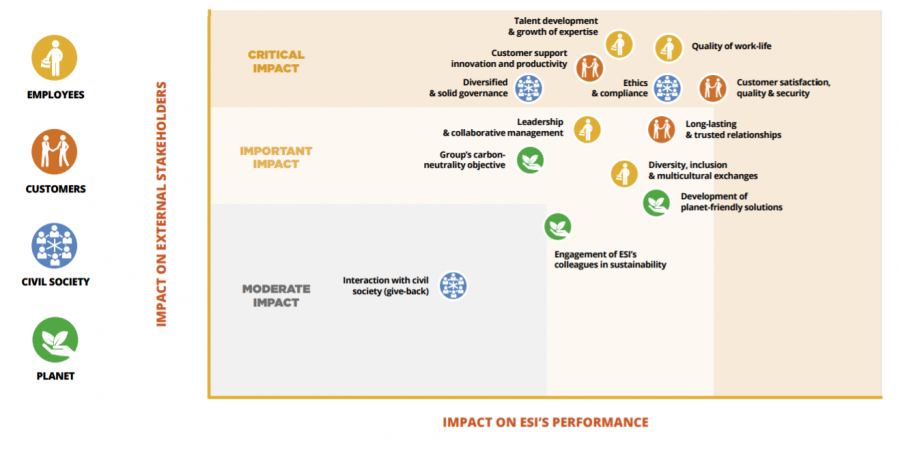 2020 PERFORMANCE

(Click on the picture above to zoom in)
For more information about responsibility, please refer to this page.