Formalization of a CSR approach in line with ESI Group's values
31 March 2016
Paris, France
4 axis and 8 commitments to support economic and social development
ESI Group today announces the formalization of its approach to Corporate Social Responsibility (CSR). In full alignment with ESI's values and corporate culture, the CSR policy positions the Group's strategic priorities within the framework of its fundamental commitments to its employees, to its clients and partners, to our society and to the environment.
Alain de Rouvray, ESI Group's Chairman and CEO, comments: "Given the increasing technological, societal and environmental challenges we are all facing, we believe that our Corporate Responsibility, as a global leader in Virtual Prototyping, is to commit to the long-term and sustainable development of both our Group and society at large. Driven by strong convictions, we have formalized our CSR approach to be and stay in phase with our Group's values."
Based on 4 axes and 8 commitments, ESI Group's CSR approach aims to assure harmonious work condition for all its employees, to propose for its clients innovative solutions that will transform them into long-term partners, and, to limit the environmental footprint of the Group and its clients; while behaving in an ethical and responsible manner with respect to society.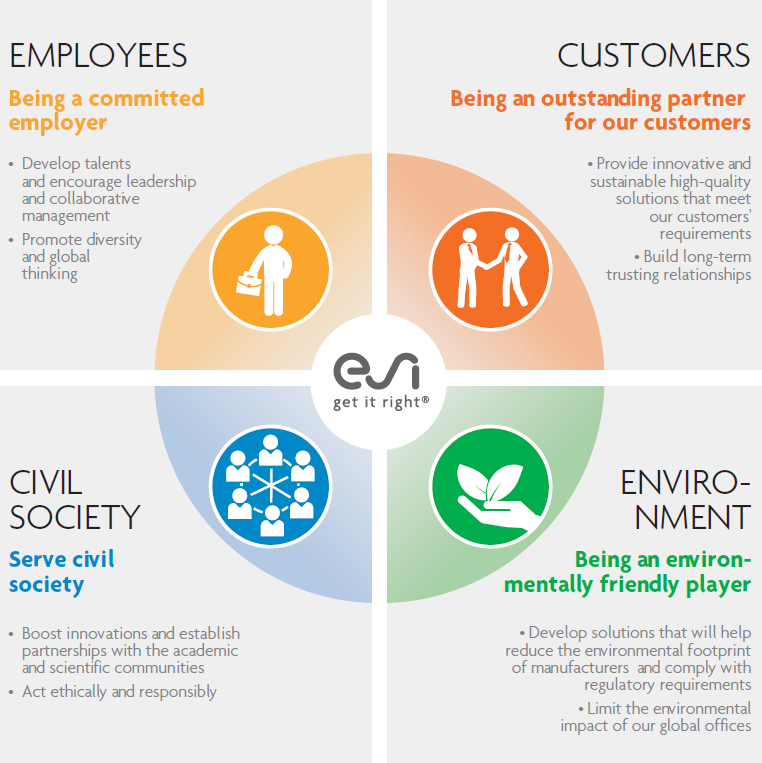 For further information, please go to the new section we have created on our website called 'Our Responsibility', which covers all information relating to our CSR approach.
Today's Quotation
74.00 €
(
0.00%
)
27/01/2023 17:35:00
More
---